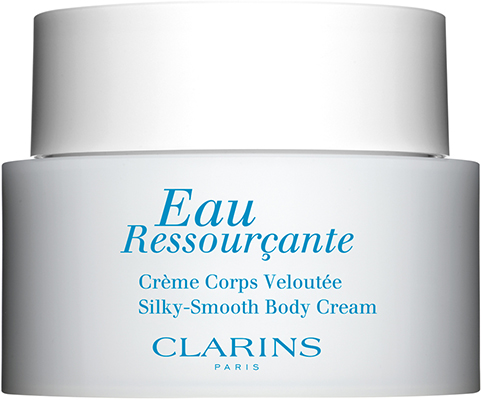 Clarins Eau Ressourçante
Clarins - Silky-Smooth Body Cream
Details
Ingredients
Suggested Usage
Moisturises, Scents, Rebalances

Softer skin, guaranteed. Sarsaparilla, Hibiscus, Robinia, Longan and aromatic essential oils in a deliciously rich cream with a silky-smooth texture. Softens skin, leaving it smooth and delicately scented with the reassuring notes of Eau Ressouréante, promoting a wonderful feeling of well-being and relaxation.
-The same aromatic essential oils with treatment benefits found in Eau Ressouréante.Non-fragrant plant extracts which offer real treatment benefits:
-Sarsaparilla, Hibiscus: relax and moisturise.

-Robinia: soothes and softens.
<br /
Apply using gentle sweeping movements all over the body morning and/or evening after a bath or shower or whenever the skin feels dry.