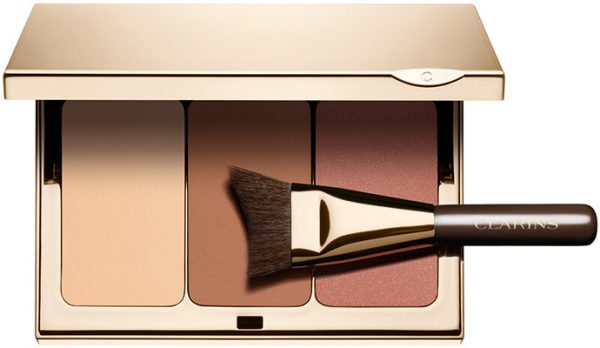 Clarins Face Contouring Palette
Clarins - Face Contouring Palette
General
Ingredients
Suggested Usage
The pro-worthy palette for easy contouring.

This palette with its angled brush allows you to easily define facial contours. It contains three long-wearing compact powders enriched with organic sweet almond oil, as well as the Clarins anti-pollution complex, to leave skin comfortable and protected: a radiance-boosting powder brightens dark areas, a contouring powder corrects and minimizes prominent areas, and a fresh-tinted blush enhances the cheekbones.
Organic sweet almond oil: comfort.
Clarins Anti-Pollution Complex.
Proven effectiveness for each powder

Radiance-Boosting Powder
Brightens dark areas of the face 87.5%*
Boosts radiance of the face 86.7%*

Contouring Powder
Minimizes prominent areas of the face 74.2%*
Corrects prominent areas of the face 70.6%*

Blush Powder
Enhances the cheekbones 88.9%*

Make-up results acclaimed by women

At the end of the day:
Make-up feels comfortable 93.1%*
Make-up wear is satisfactory 80.5%*

Following application of the three powders:
Make-up results are satisfactory 73.6%*
The palette is simple / very simple to use 71.4%*

*Satisfaction test ' 92 women ' 2 weeks