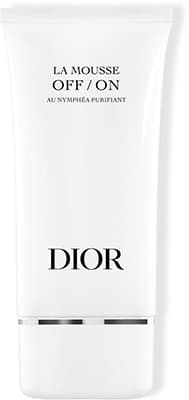 Dior OFF/ON Foaming Cleanser
TIME TO SWITCH!

Dior has created OFF/ON Foaming Cleanser, the foaming cleanser composed of 90%* natural-origin ingredients to give your skin OFF/ON cleansing:

- OFF = eliminates impurities, urban particles, makeup residue and excess sebum. Clinically proven effectiveness: the foaming cleanser eliminates 99% of particles, including the finest,** and reduces the effects of pollution on skin lipids by 20%.***

- ON = soothes feelings of discomfort, preserves the skin's hydration and barrier function. The Foaming Cleanser enables you to cut the harmful effects of pollution on a skin barrier marker in half.***

Infused with purifying water lily**** from the new Dior garden and soothing cornflower floral water,**** OFF/ON Foaming Cleanser offers more than just cleansing: this facial cleanser combines the smoothness of a cream with the effectiveness of a foaming cleanser to reveal the skin's purity while providing skincare action that respects the skin.

Airy and delicate, OFF/ON Foaming Cleanser frees the skin of makeup residue, UV filters and pollution to switch to skin that appears incredibly pure.

* Amount calculated based on the ISO 16128-1 and ISO 16128-2 standard. Water percentage included. The remaining 10% of ingredients contribute to the formula's performance, sensory appeal and stability.
** In vivo instrumental test on 21 women on 1-µm particles.
*** Ex vivo test on skin explant.
**** In vitro tests on ingredients.

1. Take a small dollop of OFF/ON Foaming Cleanser. Add water and lather into a foam in the palm of the hand.
2. Apply OFF/ON Foaming Cleanser to the face using circular motions.
3. Rinse thoroughly with water, then dry your skin with a clean towel.

Do not store at extreme temperatures.