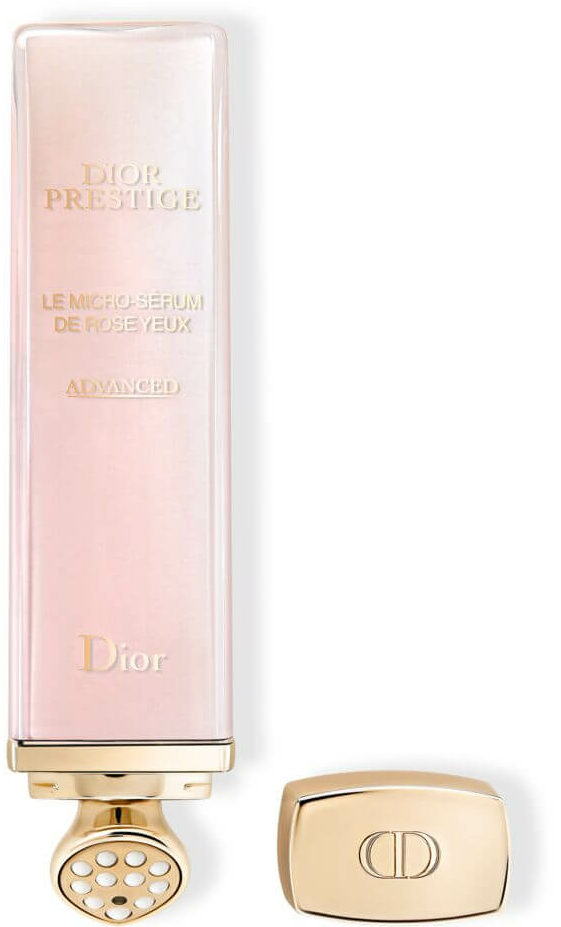 Dior Prestige Le Micro-Sérum de Rose Yeux Advanced
Le Micro-Sérum de Rose Yeux Advanced is the Dior Prestige eye contour serum with a lifting effect that restores the eyes' youthful expressiveness.

Crafted from the triple power of Rose de Granville, the eye serum's formula is composed of 97%
* natural-origin ingredients. For the 1st time, it concentrates the revitalising strength of the 22 micro-nutrients from the flower, the illuminating power of the rosehips, and is now combined with the restorative power of the rose sap.
** Instantly, visible eye wrinkles are divided by 2
*** as well as the appearance of under eye puffiness.

Its new, ergonomic jewel-like applicator – the Micro-Shaper – perfectly follows the eye contour to smooth, illuminate and redefine the eye area. Now adorned with 11 rotating, stimulating micro-pearls, the applicator provides a cooling effect and amplifies the eye serum's efficacy.

Its fresh texture instantly penetrates to diminish the appearance of dark circles and under eye puffiness. The eyes appear revitalised, rested and visibly more luminous. Day after day, the eye contour is visibly more open, as if lifted, for extraordinary expressiveness.

* Amount calculated based on the ISO 16128-1 and ISO 16128-2 standard. Water percentage included. The remaining 3% of ingredients contribute to the formula's performance, sensory appeal and stability.
** In vitro test on ingredient.
*** Clinical assessment by a dermatologist, 32 women – immediate visibility of the frown line and eye puffiness with applicator vs. without applicator.
4 EXPERT TECHNIQUES FOR EXTRAORDINARILY ENHANCED EYES

1. DEPUFF
Using the Micro-Shaper applicator, apply the serum to the lower eyelid, starting from the inner corner of the eye and moving to the outer corner. Then use back and forth motions from the corner of the eye to the temple.

2. ILLUMINATE
Place the Micro-Shaper applicator in the upper inner corner of the eye and glide it under the brow bone. Repeat this step 3 times.

3. LIFT
Apply 4 pressure points just below the eyebrow, from the inner corner to the temple. Then place the applicator on the cheekbone and stretch it to the temple.

4. SMOOTH
To smooth the nasolabial fold, make rotating motions from the lower corner of the lips to the corner of the nose.