Exceptional Edition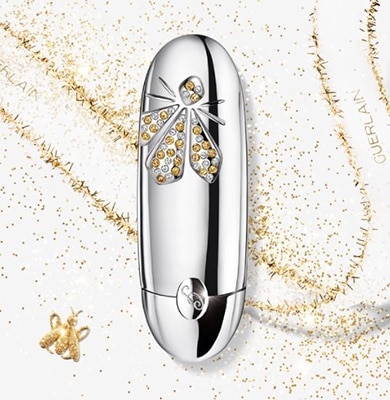 Guerlain Rouge G All-In-One Lipstick in a Prestigious Edition
General
Suggested Usage
Ingredients
Discover Rouge G Prestige Limited Edition, an exclusive gift set, that includes a jewelled case inspired by the bee—the legendary symbol of the House of Guerlain—and a lipstick shade in a satin finish. This trendy and majestic double mirror case is adorned in sparkling embellishments transforming your Rouge G lipstick into a work of art — a couture collectible. Created by the famous jeweller Lorenz Bäumer, the Shiny Bee case celebrates the bee in all its glory and is dotted by hand with precious rhinestones. The bee design symbolizing Guerlain's heritage, inspiring it's designs, and driving it's commitment to protecting bees and sustainable development.
Apply the edge directly to your lips, using the double mirror. Its ergonomic design allows precise application for a flawless lip-enhancing result.
Hyaluronic acid and blurring powders help to hydrate, smooth and pump up the lips. Black seed oil helps to hydrate the lips.