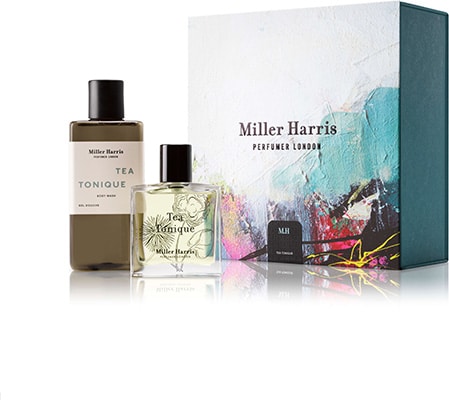 Miller Harris Tea Tonique
Gift Pack includes: Eau De Parfum 50ml + Body Wash 300ml

Tea Tonique is a skilful thesis on the herbal cleanliness of tea, weaving together green tea, jasmine tea, and black tea in one delightful blend. A morning mist with refreshing lemon and bergamot, Tea Tonique is both cool and warm, black and green, sweet and bitter. It is a contrasting and satisfying fragrance that moves from zesty, sparkling freshness in the opening to earthy black tea in the dry down. With Tea Tonique, one gets the full experience of a tea ceremony, all in one amorphous perfume.
Top Notes: Bergamot Italy, Petit Grain, Lemon
Heart Notes: Smokey Tea, Nutmeg
Base Notes: Mate Abs, Birch Tar, Musk