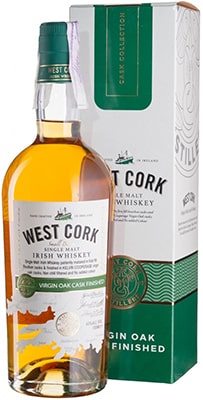 West Cork Virgin Oak Single Malt Whiskey
About West Cork Whiskey
Back in the beginning of the last century when one thought of whiskey the first thing that came into mind was Ireland. Irish malt was known around the world for its elegance and smooth flavour, however after a series of unfortunate events the industry went into a steep decline. Today there are a number of new and energetic distilleries that are speeding ahead with ambitious plans to help Ireland reclaim the  throne.
Westcork
distillery is one of those triple distilled single malt distilleries that are doing just that. Founded by 3 friends in 2003 they offer great value for money Irish whiskey in a variety of flavours and styles. Westcork are found in exclusive outlets in Malta and Gozo. Buy it
online
and get free delivery over 50 euros or visit one of our
outlets
.
Westcork Virgin cask finish single malt is a triple distilled Irish whiskey that first ages its whiskey in bourbon barrels and finishes it of in Virgin oak casks. Scent: notes of spice and vanilla. Body: medium bodied. Taste: a light taste that develops with notes of wood and vanilla.