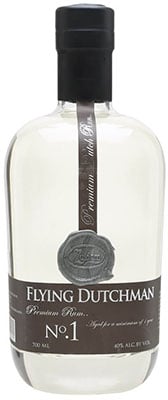 Zuidam Flying Dutchman Premium Rum No. 1
A handcrafted, small batch rum, distilled three times at low temperatures from molasses in pot stills for an emphasis on fruitiness in the spirit. It's then matured for a minimum of a year in oak, slowly allowing the flavour to develop while minimising the potentially overpowering influence of the wood.
NOSE:
Fresh, spicy, solid

PALATE:
Full, sweet notes of vanilla and molasses, spices

FINAL: <brSweet, vanilla, molasses, citrus
Out of stock
Notify me when item is back in stock.