The origin of our name
Arinobu Fukuhara was working as chief pharmacist in a naval hospital at the meagre age of 23 years old when he and his colleagues, also in their early 20's, founded the first Western-style pharmacy in Japan.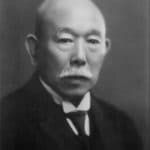 Their motivation came from displeasure with medicine available on the market at the time, while their inspiration was "to take everything and anything good in this world and use it to create new things".
The name "Shiseido" was chosen by the young pharmacist, with the words taken from a passage in I Ching meaning, Do (堂): "house of", Shi Sei (資生): "where everything is born." The whole passage reads "Praise the virtues of the earth, that is where anything and everything is born from".