DESIGUAL FOR HER….
Desigual Fresh by Desigual is a sundry fragrance featuring scents that make you pop. It appeals to multiple parts of the palate. Topping off this potpourri is the unique scent of yuzu mixed with lemon, fresh mint, and various fruity zests. As the fragrance reaches a climax, flattering notes of soft and powdery lotus, honeyed magnolia, and sour green apple are released. It eventually becomes calmer as aromatic and woody accents of sandalwood, amber, musk, and cedar make a soothing base.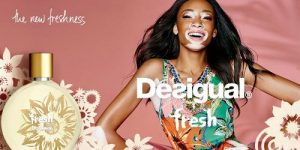 Desigual  Fresh Bloom is a floral/fruity fragrance created by MANE perfumers Violaine Collas and Véronique Nyberg. Its sparkling fruity opening, which includes wild raspberry juice and a mangosteen accord, turns into a classic floral heart of jasmine sambac and may rose, on a woody base of sandalwood and cedar. ..
DESIGUAL FOR HIM….
Desigual Dark by Desigual..a complex blend of deep rich notes will bring you a dark warm spicy scent. Very masculine and bold. This smooth classy cologne is great for a romantic evening out. The top notes are nutmeg, black pepper, ginger, saffron and cinnamon bark. The heart notes are orange blossom, patchouli, vetiver and driftwood. The finishing notes are oak moss, musk, amber, tobacco, tonka bean and black vanilla.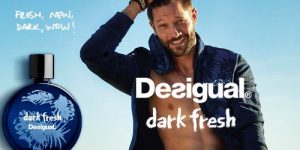 Desigual Dark Fresh by Desigual operates on a dual level, that is, it leaves you smelling both deep and fresh. To brace your senses at first spray is a refreshing blend of citrus, sour neroli, various spices, green leaves, and aquatic tinges. An easygoing body of orange, floral notes, and solar energy take the pungency down a notch. When the scent dies down to its last stage, aromatic hints of resinous amber, vanilla, earthy moss, and musk reveal themselves. What you have a scent that is masculine and revitalizing.
Available at FRANKS The Point, The Plaza, Bay Street and Republic Street, Valletta.
Share on: