Roberto Cavalli's deepest roots lie in Florence, where the founder of the acclaimed Italian Fashion House was born and raised. To this day, the landscapes and traditions of Tuscany have remained a constant source of inspiration for the luxury lifestyle brand. And when the brand decided to open a new chapter in the history of its fragrances, it naturally turned once again towards its founding place.
A luminous ode to the most refined arts, from sculpture to painting, architecture or landscaping, Florence is also known for its fabulous flowers – the name Florence originally comes from Latin Florentia, "flowering". It is a city of light and delight that harmoniously balances nature and culture, past and present, splendor and joie de vivre.
The Roberto Cavalli Florence woman reflects this perfect combination of audacity, beauty, and sensuality. Naturally elegant,effortlessly sophisticated, she radiates with charm and unassuming confidence. In every circumstance, she's magnetic,seductive, without even noticing it. As she passes by, her presence lights up the world.
The sun has set on a last explosion of crimson and gold. But as she walks into the fragrant gardens, the light seems to follow her, illuminating the path she treads on. Magnified by the night, the delicate scents of Nature caress her velvet skin and raven hair…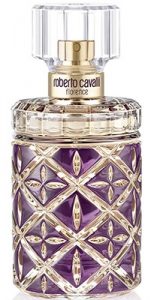 Roberto Cavalli Florence was conceived by master perfumer Marie Salamagne (Firmenich). To design this Chypre Amber, she drew inspiration from the Tuscan countryside and introduced clever harmonies that reflect Florence's urban setting and sophistication.
At its heart, a radiant and blooming bouquet, blending gentle Orange Blossom and zesty Grapefruit petals.A loving tribute to Florence, the city of flowers, this delicate combination is highlighted by slightly musky Hibiscus Seeds that add a touch of exoticism and mystery.
This flowery symphony is facetted by a voluptuous and fruity top accord that perfectly illustrates Roberto Cavalli Florence's generosity.Its contrasting -notes of sweet Blackcurrant and slightly tangy Mandarin Essence create a wondrous explosion of life and energy.
The dry-down builds on a luxurious Chypre accord: sensuous Musk and luminous Amber offer an ideal counterpoint to Marie Salamagne's favorite scent, mesmerizing Patchouli.
Share on: