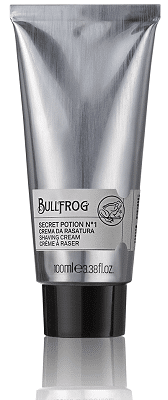 Bullfrog Secret Potion No 1 Shaving Cream Nomad 100ml
The Shaving Cream Secret Potion N. 1 convinces with its exclusive, powerful formula for perfect texture, performance and fragrance - in the tradition of traditional shaving. The Shaving Cream creates a rich, thick foam that softens and smoothes the beard and facial skin - thanks to its soothing and moisturising properties the perfect preparation for a precise shave.

The olfactory experience of the Shaving Cream Secret Potion N. 1 is inspired by the traditional elements of the speakeasy atmosphere of the 1920s.