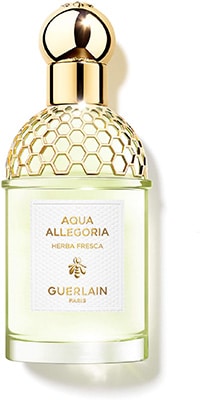 Guerlain Aqua Allegoria Herba Fresca
A note of fresh herbs sparkling with dew and springtime flowers, energised by a bunch of spearmint leaves and connected by a green tea accord. Create your own signature by pairing Herba Fresca with: Bergamote Calabria, Pera Granita, Orange Soleia or Granada Salvia. To create your own olfactory signature, select your favorite duo among recommended options and spray each Aqua Allegoria on your skin one by one in equivalent quantities.
Top Notes: notes are Lemon and Clover
Heart Notes: Mint and Green Tea
Base Notes: Lily-of-the-Valley and Cyclamen.