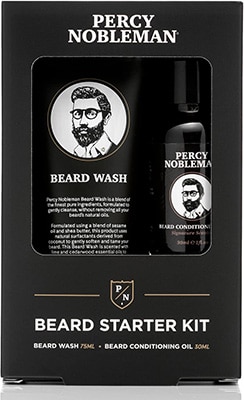 Percy Nobleman Beard Starter Kit 2.0
There simply isn't a better time to begin your beard grooming journey than the present. That is, so long as you're equipped with the right products! Percy's new Beard Starter Kit is comprised of travel sized Beard Wash (75ml) and Signature Beard Oil (30ml), the perfect essentials to mark your starting point for a new endeavour. Or, if you're an avid traveller, these make for a convenient accompaniment.

Truly a staple in any gentleman's toiletry bag or bathroom cabinet, Percy Nobleman Beard Wash is designed with organic ingredients which softly cleanse your beard without stripping away your skin's natural oils to ensure healthy growth. Follow with Percy Nobleman Signature Beard Oil to ensure a silky, non-greasy finish to nourish and protect your facial hair, ready to face the day ahead!

Whether it's a new beard, a new adventure, or a new outlook on beard grooming, this Beard Starter Kit is prepared for wherever the world will take you next!