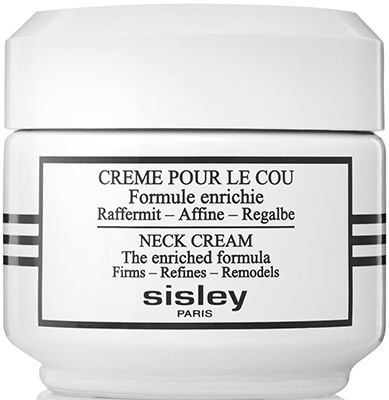 Sisley Neck Cream
Details
Ingredients
Suggested Usage
This new formula meets the specific needs of those wishing to firm and refine their neck, which is thickened with age, and recover more defined contouring. It combines four major actions to preserve the beauty and youthful appearance of this fragile area.

1. Immediate "lifting" sensation
Oat seed extract, "3D toner" active ingredient, creates an immediate 'lifting? sensation.

2. Intensive firming action
Soy fiber extract.

3. Unique refining action
Caffeine with Red Algae and Horse Chestnut extracts

.4. Moisturizing and nourishing action

The skin is immediately smoother, creases faded. Fine lines are smoothed.

With repeated applications, the skin is firmer, the neck is refined and contouring is more defined, as if reshaped.

A fine, rich and non-greasy texture that allows for a prolonged massage of theneck area. Non-comedogenic.
Oat seed extract: 'lifting? sensation;
Rhatany extract: astringent properties, reinforces the tightening effect;
Lady's Mantle extract: astringent properties, reinforces the tightening effect;
Soy fiber extract: fights loss of firmness;

Apply twice a day for 2 months for an intensive skin care program and once a day as part of a beauty maintenance routine.

Application technique
1. TO TONE
Spread a small amount of product onboth hands. With the right hand, apply thecream to the left side of the neck, usingcircular movements. Repeat these circularmovements with the left hand on the rightside of the neck.

2. TO FIRM
Place both hands at the base of the neckand move up towards the nape using asmoothing gesture.Repeat 3 times.

3. TO RESHAPE / REFINEAlternatively, smooth the area under thechin and along the jawline from left to rightwith the right hand, then from right to leftwith the left hand.Repeat each movement 3 times.