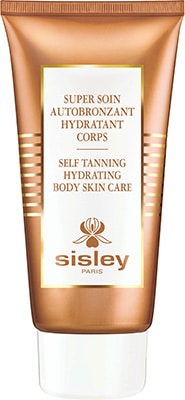 Sisley Self Tanning Hydrating Body Skin Care
Details
Ingredients
Suggested Usage
The Self Tanning Hydrating Body Skin Care beautifies the skin and body and prolongs the tan. It combines:

- self tanning action: the combination of DHA and Erythrulose, two self tanning molecules with complementary properties, creates a natural-looking, even and long-lasting tan, visible within 2 hours after application,

- moisturizing and protective action: a combination of plant-based active ingredients that instantly and lastingly moisturize the skin leaving it supple and comfortable. Wild Pansy and Chestnut extracts promote circulation and maintain water in the epidermis*.

Its creamy and melting texture with fresh and pleasant scent allows an easy use and an even application, preventing the risk of streaking. Quickly absorbed, it leaves the skin soft, silky and velvety, allowing you to dress quickly after application.

*In vitro tests.
DHA (Dihydroxyacetone): creates a rapid coloring (in less than 2 hours);
Erythrulose: creates an even coloring that is as close as possible to a natural tan;
Wild Pansy extract: increases the circulation of water in the epidermis;
Chestnut extrac
Apply a fine, even layer on clean, dry skin without over-applying to elbows, knees, ankles and heels. May be used up to 2 to 3 times a week, depending on the intensity of the tan you desire. Wash hands well after use. Allows you to dress quickly after application. Caution: this product does not contain sunblock - does not protect against the sun.