The metamorphosis of an icon
2019: Dior Addict Stellar Shine marks a new promise, thanks to its brand new, ever more addictive formula,1 in a new case decorated in the Dior letters lit up in pink.
Under the guidance of Peter Philips, Creative and Image Director of Dior Makeup, and faithful to this Dior spirit, the colour becomes attitude and shine, ever more extraordinary; a manifesto.
Dior Addict Stellar Shine is therefore the symbol of belonging to a fashion tribe, that of the House of Dior. In a loud and clear voice, it proclaims: "Be Dior. Be Pink." This signature attitude was inspired by Christian Dior, who defined pink – one of his favourite and lucky colours – as "the colour of happiness and femininity (…) Every woman should have something pink in her wardrobe." "Be Dior. Be Pink." is, therefore, an infinitely Dior statement: to express femininity freely, without compromise, radiantly.
1 At Dior.
"'Be Dior. Be Pink.' is an invitation to shine your very own way. Be you, be a star…" Peter Philips, Creative and Image Director for Dior Makeup
"Be Dior": a new stellar shine
Extraordinary shine and colour with 8h wear1
Tone-on-tone micro-pearls reflect light multi-dimensionally, boosting shine to stellar radiance.
Sensational balm comfort
The formula includes beeswax of natural origin, as well as five ultra-sensorial lightweight oils selected for the exceptional properties of shine, nutrition, hydration, comfort and softness, they bring to lips instantly and throughout the day.
24h2 hydration
The formula infused with aloe vera combined with oils and waxes, provides a fresh sensation on the lips from the first application and 24h hydration 2. At the end of the day, lips are 38%2 more hydrated. Day after day, they feel softer and suppler.
Gourmand notes
A soft scent of vanilla instantly reveals an elegant sensorial signature. A subtle sweet taste adds to this fragrant surprise. Impossibly addictive.
1 Instrumental test on 20 women.
2 Instrumental test on 11 women.
"Be Pink": colour as a new attitude
"The Dior Addict woman literally projects her positive addiction to life through a reflection of light and colour. Wearing either the glazed, sparkle or mirror effect, all Dior Addict Stellar Shine lipsticks emphasize her personality." Peter Philips
A parade of Dior hues
To express every facet of femininity, Peter Philips has developed a colour palette of 24 luminous hues. These irresistible shades add a twist to your style with subtle nudes, fiery corals, seductive reds and bold plums. A large palette of natural or sophisticated pinks is a Dior Addict emblem and the signature of the range, to be worn as your mood dictates.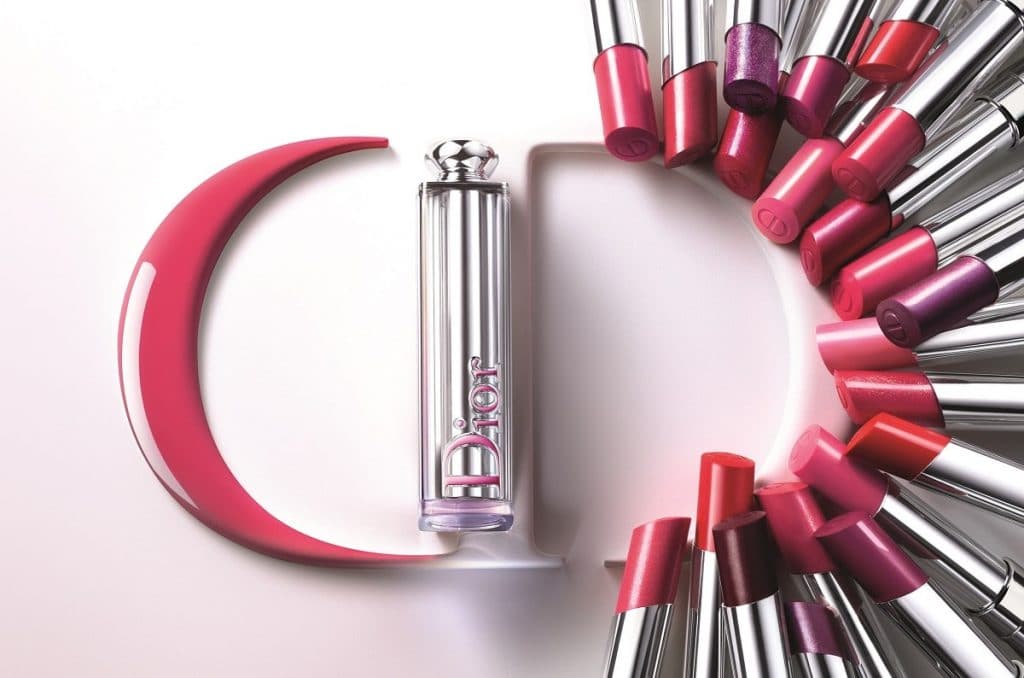 A collection of luminous effects – Dior Addict Stellar Shine
Shine is multiplied in three made-to-measure, highly wearable effects:
– Glazed: pure and luminous shine (16 shades)
– Sparkle: dazzling, glittery shine (4 shades)
– Mirror: bold shine with metallic radiance (4 shades)
At the heart of this high fashion colour palette, 4 it-shades each embody an iconic attitude: "Be Dior. Be Pink."
A camera flashes.
A lipstick glides across her lips, applying dazzling shine. Again and again.
Pink by Aerosmith is the unforgettable soundtrack.
"Pink, it's my new obsession"; "Pink, it's the colour of passion…"1
"Be Dior. Be Pink." comes alive on a fashion shoot. 4 shades, in a series of 4 makeup looks designed to be iconic, rock, romantic and extravagant. "Be Dior. Be Pink." reveals 4 different attitudes, all perfectly incarnated by their muse.