Loaded with sultry sex appeal and a good dose of humor too, this collection pays tribute to an ad from the archives proclaiming "Dior en Diable!" "Christian Dior is associated with the "femme-fleur" and rightfully so, but he was also a daring couturier. He excelled in dressing his clients in angelic pink but also in almost toxic, and thus absolutely irresistible, orange," explains Peter Philips, Creative and Image Director for Dior Makeup. "I love the coquettish, sassy facet of the Dior woman."
This joyfully devilish spirit erupts with burning-hot oranges, wildly possessed coppers, infernal lava-like rusts… A palette that paints the portrait of an explosive, blazing femininity, including, obviously, a radiant complexion"How to define this season's glow? It's like igniting a little light inside you,"says Peter Philips
A precious weapon of seduction, this autumnal femme fatale heats up the subversive and sophisticated palette with red-hot, spicy shades and smoky effects.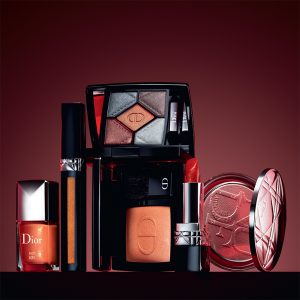 Obscure object of desire
Is it the oh-so feminine application? The iconic stick? The diabolical colour? No matter, Rouge Dior has never been so bewitching.
Designed by Peter Philips to harmonize with bold hues on eyes and nails, Rouge Dior boasts six new shades: Devilish Nude, a peach with a vintage feel; On Fire, a volcanic orange with a Studio 54 vibe; Matte Kisss, an infernal matte red; Rouge enDiable, a feverish Bordeaux; Furious Matte, a fig brown oozing with sex appeal; and Dark Devil, an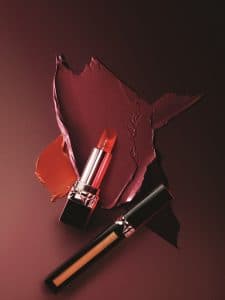 aubergine that explores the dark side of beauty.
In tune with the season, Rouge Dior Liquid and its vibrant-finish formula sizzles with the coppery orange Copper Lava and with the burning, metallic wine-red Red Lava.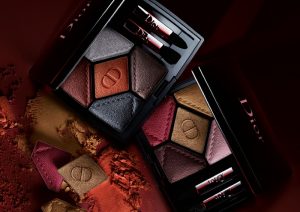 Killer eyes
5 Couleurs, the iconic eye makeup palette from the Houseof Dior, borrows from autumn's contrasting colours and from the hot-blooded theme of the collection.
Choose from two smoky harmonies, depending on your eye colour and skin tone: built around a fiery red, Devilishunfurls a pink highlight that illuminates and a sharp brown that structures, while purple and gold electrify the eyes. Volcanic builds from a lava orange to explore a cooler scheme of smoky grays and browns.
Yet another option for the eyes, Diorshow Mono and its gun-barrel purply gray Smoky Gun or green-tinged lamé Smoky Dynamite set the tone for dangerously opulent beauty.
Diorshow On Stage Liner sets the eyes ablaze with an ember-like stroke of burgundy or a charcoal grey with all the power of smoldering ashes.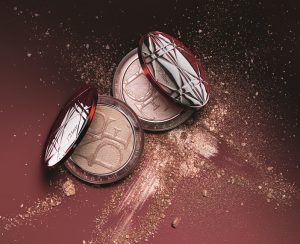 The glow of the inner flame
Diorskin Nude Luminizer recreates that coveted glow with a single sweep of the brush.
From its case, the powder infused with pearlescent pigments lights up the complexion with an iridescent sheen and highlights the face with a multidimensional glow.
"It's an incredible, versatile product: when applied to strategic areas it bringsa new dimension to makeup, the perfect tool for strobing. It can also be used to give a little beauty boost during the day when makeup starts to fade," explains Peter Philips. "You can also use Luminizer for a touch of glow on the lips, a very effective makeup artist trick."
Designed to suit every skin tone, Diorskin Nude Luminizer has been reinvented with more shades, more effects, in an array of platinum pink, ultra-luminous nude and golden orange hues. The new holographic version delivers spectacular glow in touches of light to facial contours.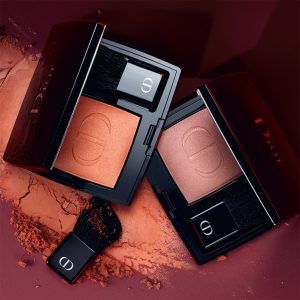 A devilish blush
Inspired by the iconic Rouge Dior lipstick, the new blush from the Houseof Dior reinvents the art of application and covers the cheeks in pure, bold femininity.
"Rouge Blush is designed not as a simple healthy glow enhancer, but rather like a lipstick for its expression of colour," confirms Peter Philips.
This fall reveals both a burning orange and a pink that is not quite as innocent as it seems. "Two facets of autumnal beauty for different moments and different skin tones," he explains. "I wouldn't want to impose only devilish shades!"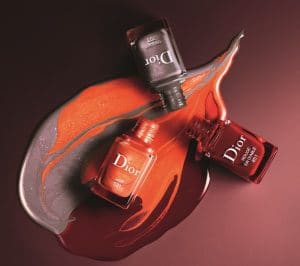 Show your claws
Always at the forefront of colour, this season Dior Vernis yields to the temptation of a Rouge enDiable, draws a gunpowder grey Trigger, flirts shamelessly with a Sulphurous yellow and indulges in a steamy orange named Hot.
Share on: