Narciso Rodriguez pays a new tribute to women by offering them a mysterious flower – Fleur Musc.
A fragrance born from the encounter between a radiant flower and a vibrant heart of musc.
An iconic fragrance collection continues to surprise and cap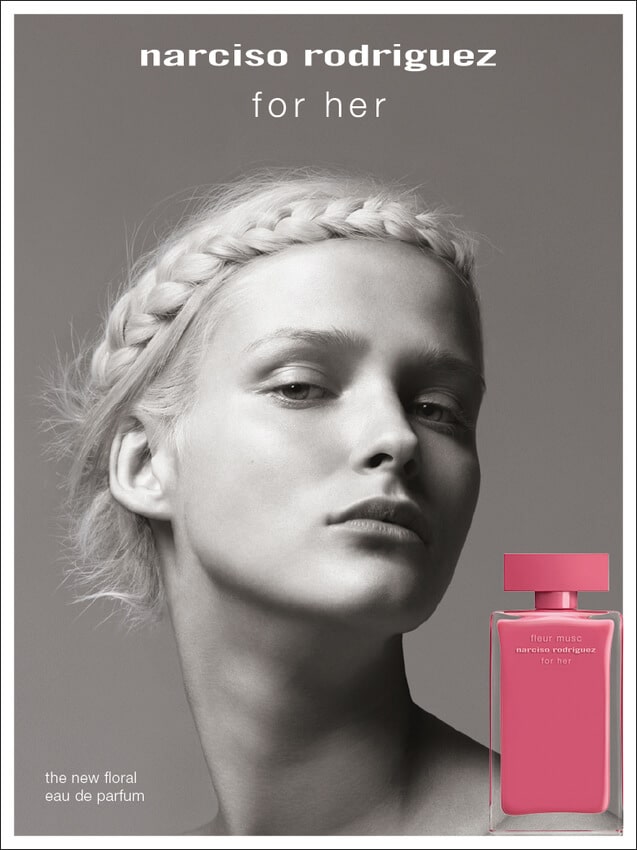 tivate. The vibrant spirit of FLEUR MUSC FOR HER embodies the profound sensuality of every woman. Unique yet addictive: this new and fragrance renders anew the nature of duality at the core of Narciso Rodriguez's for her collection with a sly charm and a fiery passion.
"Fleur musc represents a bold, passionate femininity; it's a fragrance that evokes charm and grace." – Narciso Rodriguez
Fleur Musc For Her was inspired by women who project an air of independence with exquisite grace.
"Fleur Musc possesses the spirit of many women," says the designer. The fragrance captures the freedom and nuance of a femininity that encompasses all; it radiates with a new vitality and conveys a sensual confidence.
"Carmen possesses grace and beauty that's both provocative and unassuming. In this new portrait, she conveys confidence effortlessly." – Narciso Rodriguez
Fleur Musc For Her is enchanting . A generous floral bouquet with vibrant notes envelops the signature heart of musc with warmth and sensuality. The sumptuous pink flowers, enhanced by pink peppercorns, blend with the rare musc while woody amber notes—a mix of patchouli and soft amber—illuminate. The result: a radiant sublime rose that stands alone.
"The color reveals the vibrant spirit of this pink floral scent. It's a more brilliant shade of pink than our signature pink for a simple reason: it reflects the woman who wears it and defines the beautiful nature of fleur musc." – Narciso Rodriguez
The signature bottle containing Fleur Musc is a vivid resounding pink, a new color for the fragrance collection. The color reflects the warmth and indomitable nature of Fleur Musc For Her as the new fragrance adds an intriguing chapter to the always evolving for her story.
Share on: