FRANKS is giving away more than 12 prizes for the first 12 days of Christmas.  Every day we will be posting an easy question about the respective brand or product.  Answer correctly and you will be in the chance of being a winner.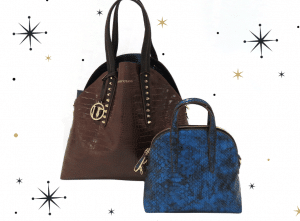 And that's not all!!!  Give the correct answer for all 12 questions and be in the chance of winning a Grand Prize – a Trussardi 2 in 1 Leather Bag.
YOUR ASSIGNMENT
Check out our daily facebook posts and to find your question.  Write down the correct answer on the facebook post using the hash tag #FranksXmasBonanza.
Answer  all 12 questions correctly to be in the chance of winning the Grand Prize!
THE PRIZE
Apart from the Grand Prize being a Trussardi 2 in 1 Leather Bag, every day, a different prize will be announced.
TERMS & CONDITIONS
You can participate as many times as you like BUT you can only win once throughout the competition.
Only answers on the day's respective post will be considered.
Each post should also include the following hash tag: #FranksXmasBonanza
You have to answer the 12 questions correctly in order to be in the chance of winning the Grand Prize
FRANKS employees are not eligible to participate.
A winner will be chosen daily at random from among the correct comments from the daily post.
Winner will be announced the following morning through a facebook post.
Winners will be kindly asked to collect their prize from our store at Bay Street.
The prize is to be collected within a week from the winner's announcement from Bay Street; if prize is not collected within this timeframe, another winner will be announced
Prizes cannot be neither exchanged nor refunded.
The Competition will run from the 1st till the 12th of December, 2017 and the last winner announced on the 13th December together with the Grand Prize Winner.
Inappropriate Content
Obscene, provocative or otherwise questionable content will not be considered. We retain sole discretion as to what constitutes inappropriate content.
Rights
By entering the contest, entrants agree to have their submitted name displayed both on our facebook and website, and used by us for any purpose, at any time, without any fee or other form of compensation. We reserve the right to disqualify users, without notice, and for any reason.
A photo of the winner's gift presentation will be uploaded on FRANKS website and social media
Good Luck 🙂
Share on: