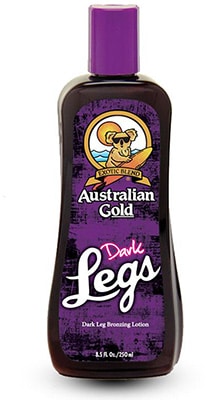 Australian Gold Dark Legs
Legs are the hardest part of the body to tan. Our Dark Legs formula is specifically formulated to help get faster, darker results on this hard-to-tan area. Our LEGit Bronzers - a powerful mixture of Melanin and Tyrosine - work together for an instant and enhanced dark colour. The use of Melanin also encourages your natural tan to develop faster and deeper for longer-lasting results. Plus an additional dose of DHA allows for a deeper, darker developed colour. The Silky Softness Complex combines Agave Extract, Aloe Vera and Shea Butter to provide deep hydration, ensuring skin stays moisturised for longer. Plus Grapefruit and Lemon Peel Extracts provide antioxidants to balance skin tone for a radiant glow.
For people struggling to tan certain areas on their body, we advise applying different lotions to these areas. Dark Legs is ideal for those with hard-to-tan legs, however the rest of your body may benefit from the use of a different tanning lotion such as Accelerator Extreme.