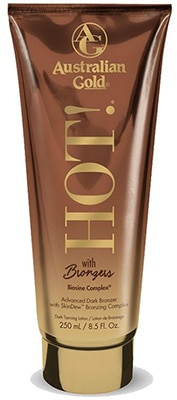 Australian Gold Hot With Bronzers
Dark, hydrated colour is just one session away! Hot! with Bronzer's advanced Dark Bronzers combine Natural Bronzers, including Black Walnut Shell Extract and Melanin, with high grade DHA and DermaDark® to provide instant, streak-free bronze gratification, as well as a darker, longer-lasting bronze hue. Hot! with Bronzers uses an industry exclusive high level of concentrated Aloe Vera Gel as it's base. This high level of Aloe helps to heal, soothe and moisturise for healthy, smooth skin. Maximum Tanning Energy® helps to enhance the skin's ability to retain moisture for longer. This in turn helps skin to promote a darker, longer-lasting colour. FadeDefy Technology employs Kakadu Plum, the richest source of Vitamin C and Shea Butter to moisturise for longer-lasting colour. A blend of Liposomes, Vitamins and Amino Acids combine to deliver moisture to the skin for deeper, darker colour and a bronzed radiance. Plus an added advanced Biosine Complex® means Tea Tree Oil, Panthenol, Kukui Nut Oil and Squalene are combined to soften and moisturise skin for great quality skincare and maximum tanning results.
This is a great product for Hot! fans who are looking to ramp their colour up even further!