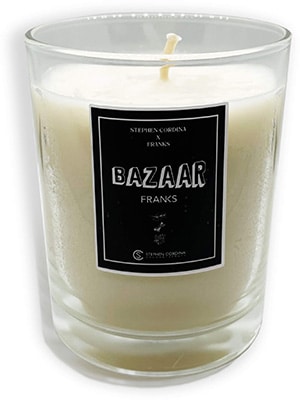 BAZAAR Franks
This candle evokes memories of "The Spirit of Malta". Gold of the Citrus Family - Cinnamon, a spark of creativity in the air, Oakmoss for nobility- the Palace Rose Garden, a little Jasmin, and the Velvet of Vetiver complementing FRANKS' reputation and history.

BAZAAR – the name was chosen as an homage to the sign of the first FRANKS shop that was opened in Cospicua by Salvatore Abela in 1893.

Like all products in the STEPHEN CORDINA COLLECTION, Bazaar FRANKS is hand crafted from natural ingredients and can be used as a hand balm.
Revolution No Risk No Magic Scented Candle - a fruity and floral scent, with notes of jasmine and raspberry. Perfect for a delicately sweet aromatic experience.