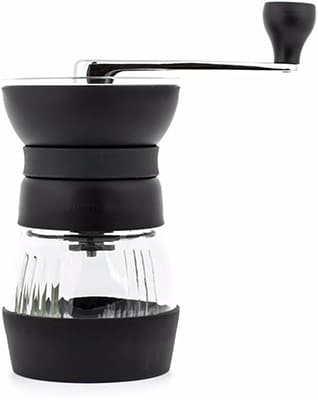 Hario Ceramic Coffee Mill Skerton Pro
Durable. Functional. Versatile. The iconic Skerton PRO Manual Grinder by HARIO has become the most popular coffee grinder over the last few years. Widely regarded as the best HARIO grinder among coffee lovers, it puts you in control of the grind size with a professional consistency. Set it to coarser grind for cold brews & french press, or to a finer grind for espresso with ease. We're sure you'll love it as much as we do!

The Skerton PRO manual grinder has a slick anti-slip grip which ensures a truly stable grind. While the top transparent lid prevents the beans from scattering. Apart from beautiful aesthetics the Skerton PRO has improved grind adjustment which lets you to select fine/coarse settings to get the all-important consistent grinding results. It has also improved sturdiness due to the stronger grind shaft and easy to detach stainless steel handle for a smoother grinding experience. Just like all Hario hand grinders, Skerton PRO comes with inner ceramic burrs, preferred by baristas and coffee professionals. It can be easily detached and washed making the maintenance process much more enjoyable. Additionally, the grinder has a glass bowl hopper with a 100g capacity to store coffee grounds when you need to brew multiple times throughout the day.