The first ultra-wear, ultra-colour and comfortable lipstick1 
The red kiss you will never forget
In the beginning there was red: more than a colour, a Dior manifesto.  Therefore, Christian Dior created Rouge Dior, a couture-spirit lipstick in the midst of the New Look revolution.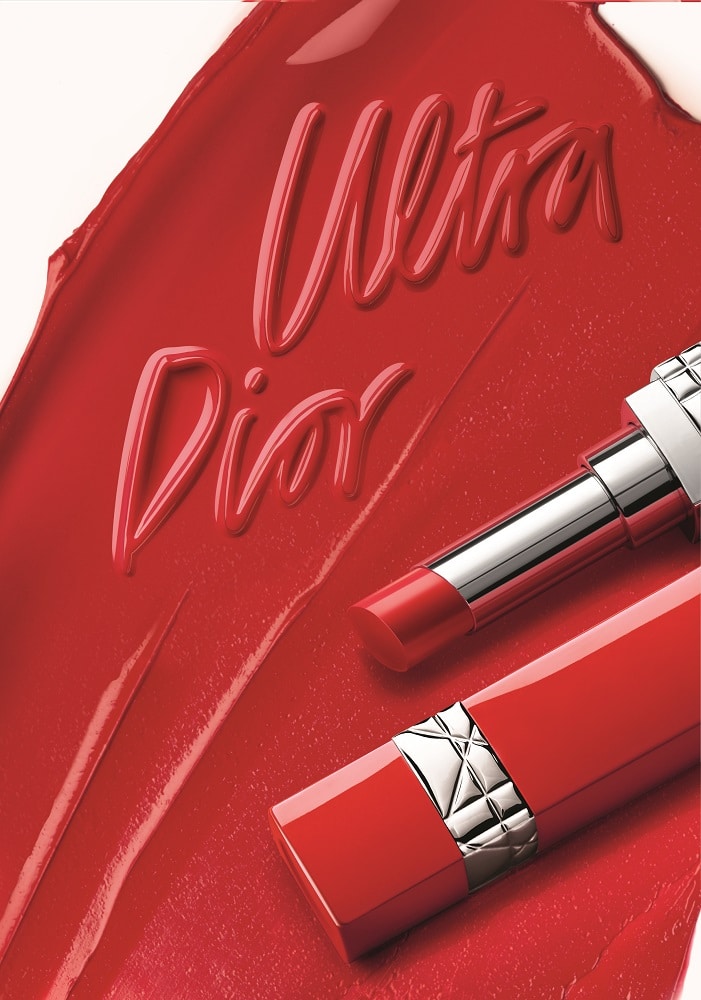 A Dior revolution
"Long lasting, great texture, fierce colours: a lipstick fantasy that becomes reality. Dress your lips like a painter would glorify a canvas. Easy to apply, easy to wear,"says Peter Philips, Creative and Image Director for Dior Makeup.
For the love of red, Peter Philips enriched this dazzling collection with an innovative creation.
An original lipstick for a new generation.
Under his guidance, the laboratories have pushed back the limits of formulation, putting research to work in the service of creativity and transforming the very concept of lipstick.
Ultra Rouge is one of those surprising revolutions that shake up the codes: it is the first lipstick that wears like an ink while being ultra-comfortable1.
A simple idea lies behind a complex innovation with multiple virtues, including luminous colours with a semi-matte finish, incredible sensoriality and hydration for a 12-hour wear lipstick2.
1 At Dior
2 Instrumental test carried out on 20 women using the 26 shades of the range except shade 000.
The birth of an ultra lipstick
"What do women want from a lipstick?" asks Peter Philips. "Everything.""Today they are used to high-pigment lipsticks with staying power, even if that means less comfort. Meanwhile, at the other end of the spectrum they want light-as-air, weightless colour. This lightness is possible with inks, although it often comes at the expense of colour impact and comfort.
Ultra Rouge squares the circle and provides a different experience for every woman who loves the magic of makeup, comfort and sophistication."
A feat from the laboratories
Always at the cutting edge, Dior challenged its research teams to combine the desire for dazzling colour with the need for long-lasting comfort.
"We wanted to go even further with the idea of combining the two eternal opposites of staying power and comfort. Thanks to years of research and in-depth scientific studies, we managed, in fact, to identify a polymer which, when combined with a plant oil, offers both comfort and deep hydration, along with 12-hour wear1. All without any tightening or drying sensation,"explains Brigitte Noé, Director of the Formulation Laboratories.
1Instrumental test carried out on 20 women using the 26 shades of the range except shade 000.
26 ultra-wear couture colours
"Ultra Rouge adds new magic both to the experience and the expression of lipstick and the expression of red," Peter Philips confides. " Because the formula acts as an overprint, like an ink tattooing the lips and like an extremely weightless coloured film, it enabled me to develop new, highly saturated and luminous shades. Like a painter with a new colour palette."
To enhance these shades, Ultra Rouge gets an elegant couture case, crafted from an ultra-modern lacquered red metal that celebrates colour.
Share on: