MY BLUSH!
Get ready to twist again – These twists are especially for cheeks.
PHYTO-BLUSH TWIST
As INTENSE as a cream blush, As DELICATE as a powder blush, As FUN AND HANDY as a twist. Colour, Care and a Healthy Glow in a single transformative texture…THE TWIST IS BACK!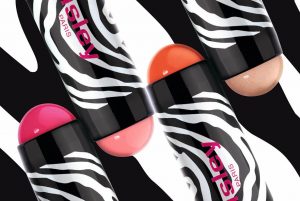 INSTANT RADIANCE BOOST: Phyto-Blush Twist lifts and sculpts facial features in a single stroke with a translucent finish. Its formula contains film-forming
wax for a long-lasting result. It gives excellent colour application thanks to the micronised pigments within the gel formulation.
ULTRA-SENSORY TEXTURE: Phyto-Blush Twist offers all the comfort of a cream that melts onto the skin but is then transformed into a delicate powder with a soft-focus effect. This transformative texture has been achieved by combining lightweight oils with a gel system to create a "blur" effect.
SKIN CARE: the formula combines Shea oil and Camellia oil for optimal comfort and a hydrating action, as well as Vitamin E acetate to ensure the skin is cared for and comfortable.
EASY AND INTUITIVE APPLICATION: Phyto-Blush Twist can be applied in a single stroke, even without using a mirror. The maxi zebra striped twist-up can be taken anywhere and doesn't need sharpening. Its rounded tip is designed to help you apply colour to the apples of your cheeks evenly and can be adapted for a more subtle or dramatic effect to suit your mood.
Share on: