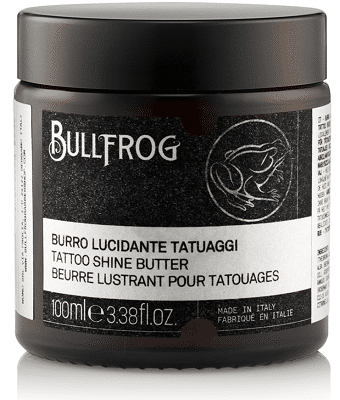 Bullfrog Tattoo Shine Butter 100ml
A finishing product to make tattooed skin shinier and enhance the designs and colors.

The supple formula with oils ensures the right hydration and makes tattooed skin particularly well-groomed and supple.

Tattoo Shine Butter is rich in emollient and vegetable oils, its formulation is 100% vegetable and contains 50% shea butter.

The texture is perfectly absorbed by the skin, creating a supple layer that protects the skin and the tattoo, preserving the right elasticity.

The glossy surface enhances the design and colors of the tattoos.

The scent was designed to recreate the effect of the barber's warm towel, thanks to subtle notes of musk and talc.