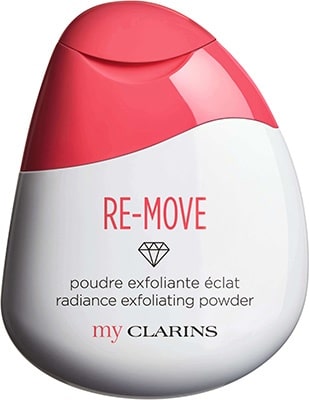 Clarins My Clarins
Clarins - RE-MOVE Radiance Exfoliating Powder
General
Suggested Usage
Ingredients
The custom-made exfoliating powder that gently eliminates impurities for clear purified skin. Moringa extract detoxifies the skin's surface and eliminates traces of pollution. Its gentle lightweight texture blends with water or the My Clarins RE-MOVE Purifying Cleansing Gel to create a personalised scrub.
Cleanses skin of impurities
Smooths and refines the skin's texture
Fresh luminous complexion
Apply after mixing with My Clarins RE-MOVE Purifying Cleansing Gel or water. Once or twice a week, rub them together in your palm until a light lather forms. Massage gently all over the face. Avoid the eye area. Rinse thoroughly with water, then dry. Recommended amount: 1/2 teaspoon per treatment. Use a smaller amount or less often, depending on your skin type.
{"moringa_pterygosperma": ["Its extract helps detoxify the skin's surface and eliminate traces of pollution."]}