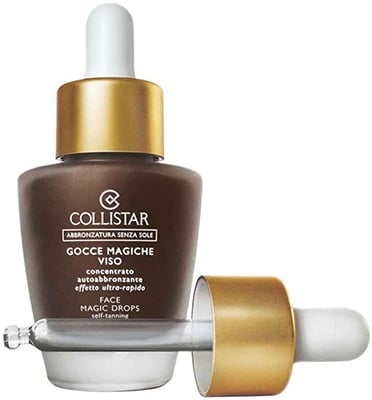 Collistar Magic Drops Face
Just a few drops are enough to produce, as if by magic, an immediate golden colour which, in less than an hour, becomes a deep and glowing tan, just like after a day at the beach or a UVA lamp session. Magic Drops owe their effectiveness to an exclusive formula which combines walnut shell extract with the innovative DHA Rapid, a new generation self-tanning molecule that halves the time the skin needs to acquire colour and guarantees a fast, natural and even result, without the risk of unsightly blotches. In addition, this magical 'sun concentrate' also contains exceptional moisturizing and anti-age properties in the form of vitamin E and a biotechnological derivative of corn, which envelops the skin in an invisible and long-lasting moisturizing film. Light, silky and delicately scented, the product is easy to apply and instantly absorbed, leaving the skin soft and smooth.
Apply a few drops of Collistar Face Magic Drops Self-Tanning Concentrate to previously clean and dry skin of the face, neck, and décolleté. Evenly spread the product. Wash your hands immediately after use. For better results exfoliate the skin before applying. To tone down the effect you can mix it with your daily moisturizer.
Out of stock
Notify me when item is back in stock.