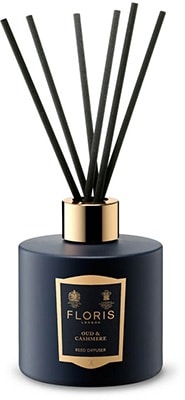 Floris Oud & Cashmere Diffuser
The scent is in a glass bottle with sticks which then emit the scent. Initially, you can use 1-2 sticks, and when the scent gradually diminishes, you just add some more.

Full of elegance and warmth, Oud and Cashmere creates a welcoming atmosphere for any living space. A light sparkle of citrus contrasts with rich spicy tones of black pepper, cardamon and clove bud wrapped around hints of almond.