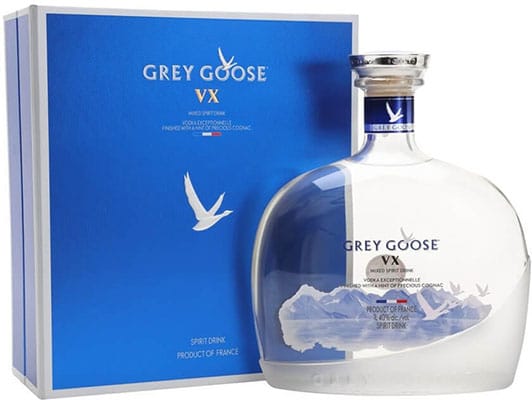 Grey Goose VX 100CL
Vodka with a splash of Cognac

Grey Goose VX is the latest high-class spirit by cognac master François Thibault and his team. Thibault, spent a good deal of his career perfecting the art of manufacturing cognac, before deciding to create premium vodka. With Grey Goose VX, the brand now presents us with an impeccably noble spirit which marries these two worlds, combining the finest vodka with a hint of exclusive cognac. Grey Goose VX is a pioneering and innovative new luxury spirit.
Grey Goose VX will delight with aromas of white fruit blossoms, plums, apricots and wild honey. Due to its clever distillation, it also has a very soft texture, which will appeal to every fan of great alcoholic beverages. As with the other Grey Goose drinks, Thibault, the master distiller, controls and oversees every step from field to bottle. Using only the highest quality of ingredients, A truly unique spirit which is best enjoyed on the rocks so that the full and complex flavour can be fully appreciated.