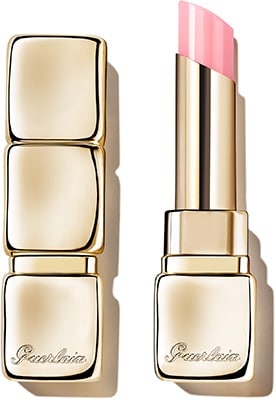 Guerlain KissKiss Bee Glow
Guerlain introduces KissKiss Bee Glow, a tinted lip balm infused with honey and made of 98% natural-origin ingredients¹. It revives the natural colour of the lips with a touch of glowing shine, by offering a 24-hour hydrating² and regenerating care. Creamy and addictive, its incredibly melting texture glides onto the lips for long-lasting comfort. The formula combines honey and melting active ingredients for soothed, softened, nourished and plumped lips, more beautiful day after day. KissKiss Bee Glow is available in six floral shades with a syrupy, sheer finish... for a radiant, irresistible and vibrant smile, one which celebrates nature, ready to be kissed!
KissKiss Bee Glow can be used on its own or as a base:
1. On its own: KissKiss Bee Glow revives the colour of your lips while providing a regenerating care and 24-hour hydration.
2. As a base: KissKiss Bee Glow can be used as a base before your lipstick for greater comfort and even more vibrant color.