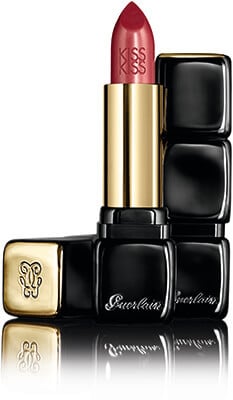 Guerlain KissKiss
The original French KissKiss! KissKiss surprises us once again by slipping into a precious and graceful little black dress. Its understated case shows off infinitely elegant curves. A tube transformed into a work of art, a sculptural jewel developed like three sleek cubes. Simply chic! <br In perfect harmony with feminine curves, lips immediately regain their fullness and softness thanks to a formula enriched with plumping hyaluronic acid spheres. In parallel, Commiphora oil helps smooth the lip surface. <br The elegance of a timeless essential.
The KissKiss routine:
1. Apply Liplift before lipstick and slightly beyond the lip contour, then blend in with the fingertips.
2. Draw the shape of the lips with the Stylo Lévres.
3. Apply KissKiss directly to the lips.