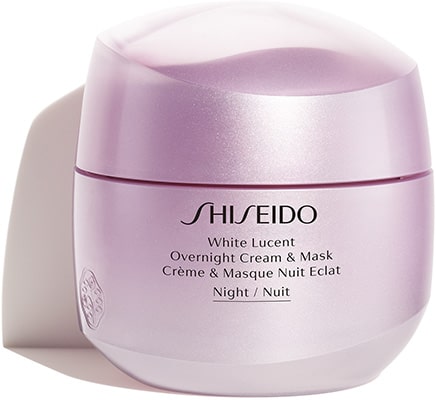 Shiseido White Lucent
Shiseido - Overnight Cream And Mask
Details
Ingredients
Suggested Usage
Reawaken your skin's sensors. Illuminate your skin's radiance.

Focus on the neuroscience of your skin's senses. Your Skin's Responsive Power could be declining, and it could also be compromised by damage from external aggressors.

With this rich, comforting gel cream, ReNeura Technology TM* directs internal sensory signals, to make skin optimally responsive to the age-defying benefits of skincare. Concentrating on skin's nighttime process, the cream supplies generous moisture, and helps repair daytime damage while you sleep. It intensively brightens, diminishes the look of dark spots and unevenness, and smoothes lines. Moisturizes generously and helps repair UV damage while you sleep. Illuminating you.

? Mood-brightening green floral fragrance
NON-COMEDOGENIC.
DERMATOLOGIST-TESTED.
SAKURA-Bright complex: Targets the pigmentation process to control the factors that stimulate it.

RENEURA TECHNOLOGY ™ : Boosts skin's responsiveness with


Ashitaba Extract: Boosts energy production of cells to enhance the power
? Use every night after cleansing and balancing skin.
?Can be also used as a mask for intense treatment.
?For a night cream, take cream onto the fingertips and apply it to the cheeks, forehead, nose and chin.
?Smooth the cream gently over the face, starting in the larger areas such as the cheeks and forehead. Move from the center of the face outward.
?When using as a mask, take one almond-sized drop and smooth evenly over the entire face. The cream will blend into the skin. Keep it on throughout the night.