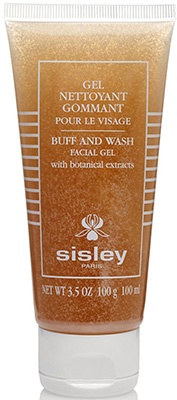 Sisley Buff and Wash Facial Gel
Details
Ingredients
Suggested Usage
Leaves skin envigorated, soft, and luminous.

The Buff and Wash Facial Gel gently cleanses and buffs away dead skin cells and impurities in a single motion. Its gel texture gently cleanses and contains exfoliating particles. Natural plant extracts (Lemon) along with essential oils (Exotic Verbena and Lavender) envigorate the skin and create a sensation of comfort and freshness. Its ultra-gentle formula respects the skin and is ideal to be used 3 to 4 times a week. The skin is revitalized, soft and radiant.
Lemon: tones and revives the complexion;
Lavender (essential oil): soothes;
Exotic Verbena (essential oil): refreshes and tones
Apply a dime-sized amount after moistening the skin on the face and neck. Using your fingertips, massage in a circular motion, avoiding the eye contour. Then, rinse thoroughly with water before applying a lotion adapted to your skin type. May be used 3 to 4 times a week.

Gently cleansed and exfoliated, skin feels fresh and soft; the complexion is radiant.