An echo of an iconic romance.  A memory of past love.  A celebration of intensity.  A powerful and hypnotic warmth lingers.
OBSESSED INTENSE CALVIN KLEIN
iconic. sensual. powerful. instinctive.
OBSESSED INTENSE CALVIN KLEIN is  the deeper exploration of a story of past love and romance. Unbound by traditional female and male fragrance structures, the two fragrances know no rules. Genders are subverted and layered, with the traditional scents of the masculine fougère —particularly white lavender—harnessed for the women's fragrance, while the men's scent is in thrall to a dark vanilla.
For OBSESSED INTENSE CALVIN KLEIN, memories of infatuation are unraveled by the addition of an amber warmth and higher concentration of oils to evoke a nearly tangible feeling of sensuality and the reminder of the scent of another on the skin.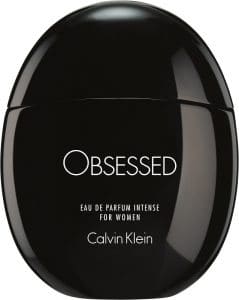 OBSESSED INTENSE CALVIN KLEIN Female Fragrance:
A female interpretation of an oriental lavender intensified with liquid amber.
Top:       sacred citrus, elemi, mandarin
Mid:       violet, lavender, sage
Dry:        labdanum, amber, muscenone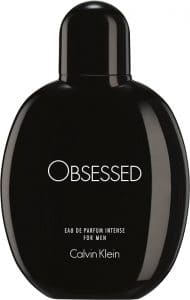 OBSESSED INTENSE CALVIN KLEIN Male Fragrance:
A masculine interpretation of a vanilla infusion intensified with black amber.
Top:       oro blanco grapefruit, rhubarb, sichuan pepper
Mid:       cedar leaves, casherman, cypriol
Dry:        black amber, gurjum balsam, guaiac wood
Share on: