The night of the 23rd June at Bighi Kalkara, was a night for champagne, red carpet, gala attire, and a melodious blues/swing band continuously playing in the background.  A scene which could easily have popped out of a 1930's era glamorous movie, but was in actual fact,  'Franks' 125 Anniversary Celebration Party.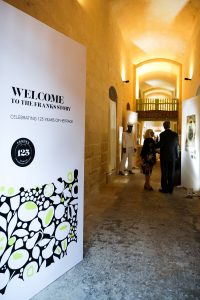 Guests started trickling in by 8pm, making their way through the long tunnel leading onto the large open terrace.  The tunnel was transformed into a Franks Time Line exhibition, starting from the 1890's up till the present day.  The beginnings were very humble, with Salvatore Abela selling his wares, to sailors from a cart in Cospicua docks, to the present day's Franks chain of seven Stores in the major shopping towns and shopping Malls in Malta.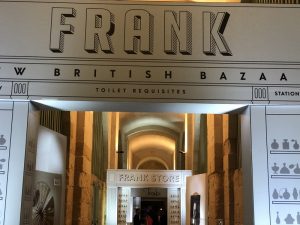 The venue at Bighi could not have been more fitting, a Brand with a Heritage History, celebrating in this beautiful Old Naval Hospital, built in neo-classical architecture from the early 19th century, and overlooking the majestic views of the Grand Harbour and Valletta.  Nothing was spared to add to the splendour of this evening, fairy lights lit up the surrounding hedges, and beautiful lit lanterns hung from trees, Franks 125 logo and design were projected onto the side walls of the facade, followed by a short video, summing up all Franks history and story, throughout these 125 years.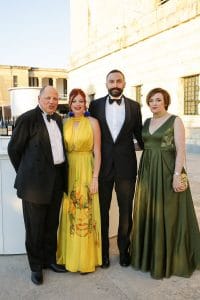 Lauro Abela, Director of Franks, gave a short speech, mainly thanking the guests present, but most of all thanking our esteemed clientele, for their continuous patronage and support.  Last but not least a heartfelt thank you and appreciation to our loyal and hardworking staff, without which none of what we are today, would have been possible.
As the Band played and champagne flowed, accompanied by a light breeze, under the moonlit skies, helped make this truly magical night for guests and The Franks group a night to remember.