AFTER 20 YEARS OF J'ADORE, DIOR RELEASES A BRAND NEW FRAGRANCE FOR WOMEN…
A hymn to happiness, the House's new fragrance, was conceived as a reflection of pure joy.
"I dreamed of making them not only more beautiful, but happier, too," Christian Dior wrote of Women
This fragrance composed by François Demachy, the House's exclusive Perfumer-Creator, can claim to be the most spontaneous expression of the feeling of joy. "JOY by DIOR expresses this remarkable feeling of joy by offering an olfactive interpretation of Light." Francois Demachy
An ode to the pleasures of life. It is conceived as a scent of ENERGY, LIVELINES, SOFTNESS, HAPPINESS AND GOOD MOOD, SUCH THAT YOU MUST FEEL IT IN ORDER TO EXPLAIN IT! "Make me a fragrance that smells like joy!"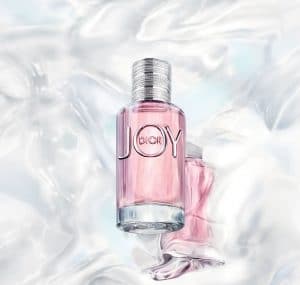 The FRAGRANCE
The new Eau de Parfum shines with the vibrant smile of flowers and citrus fruits, the smooth cares of wood and the serenity of musks.  GRASSE ROSE, mixed with JASMINE and JUICY CITRUS FRUITS that give zest to the whole creation. Warm SANDALWOOD in the base represents a gentle embrace, while a clean and powdery dose of MUSK provides the effect of a sensual touch.
The BOTTLE
The bottle is of a simple shape, crystal and soft pink, jewel-like. On the inside of the cap there is the Lucky Star symbol of the house, and silver wire adorns its perimeter.
The FACE of the advertising campaign is actress JENNIFER LAWRENCE!
Share on: