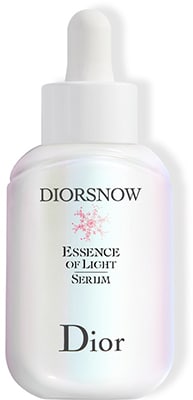 Diorsnow Essence of Light Serum
The new Diorsnow Essence of Light brightening serum combines 4QD* technology with Dior's floral science, featuring vectorized edelweiss for deeper and more effective brightening action. * Quality Dimension.
1. Cleanse the skin with Diorsnow White Reveal Gentle Purifying Foam.
2. Rebalance the skin and prepare it for the rest of the skincare with Diorsnow Brightening Light-Activating Micro-Infused Lotion.
3. Activate luminosity at the heart of the skin with Diorsnow Essence of Light Brightening Milk Serum.
4. Next, apply Diorsnow Brightening Refining Moist Cloud Creme.
5. Protect the skin with Diorsnow Ultimate UV Shield Tone Up.