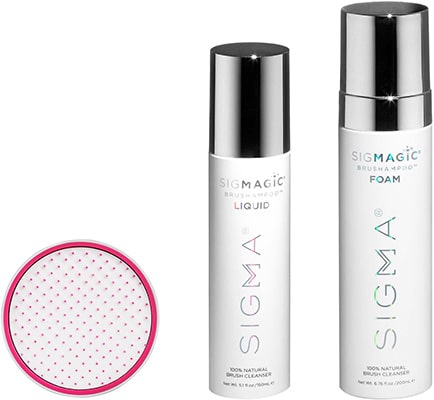 Sigma Brush Cleanser Trio
Give your brushes a deep, gentle clean with all 3 SigMagic® formulas. These all-natural cleansers help better your skin and makeup application. Find your favorite or love them all!
SIGMAGIC™ SCRUB - Solid scrub + silicone texture eliminate hard-to-remove stains. Great for dense foundation brushes! SIGMAGIC® BRUSHAMPOO™ LIQUID - The original formula! Liquid cleanser sinks deep into brush bristles for thorough, everyday brush cleaning. Perfect for fluffy face brushes and blenders! SIGMAGIC® BRUSHAMPOO™ FOAM - Ready-to-use formula is great for quick and easy brush cleaning. Gentle on eye brushes!