Indeed, dry skin lacks both lipids and water, deep down and on the surface. Deep down, lipids, fewer in number and exhibiting a lack of organization, allow water to evaporate more easily. On the surface, the hydrolipidic film – composed of lipids and water – is deteriorated. It no longer carries out its protective function. Skin is thus defenceless against damage. It is uncomfortable, tight and reddened. The complexion is dull.
Providing relief on the surface isn't enough!
To provide lasting comfort, it is essential to attack the causes of dry skin deeper down.
The Velvet Nourishing Cream with Saffron flowers combines pleasure and efficiency to restore comfort and beauty. Skin care without compromise that has 3 actions for visibly more beautiful skin: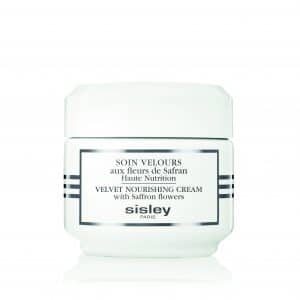 THE POWER TO MAKE THE SKIN MORE RESISTANT This skin care product acts specifically on the skin's natural cycles day and night, thus providing double targeted action. – During the day, Buckwheat seed extract protects this defenceless skin, whose lipids are easily oxidized. – At night, Shea butter repairs and fortifies skin damaged by outdoor conditions. Protected during the day and repaired at night, skin is more resistant.
THE PLEASURE OF INSTANTLY AND LASTINGLY SOOTHED SKIN Saffron flower extract's powerful soothing properties restore comfort to dry skin. The complexion is revived. The velvety texture envelops skin to instantly comfort it.
THE POWER OF A CREAM THAT INTENSELY NOURISHES AND QUENCHES THE SKIN • RESTORES THE LIPID BALANCE A trio of oils rich in omega 6, 7 and 9 (Cottonseed, Macadamia, Sunflower) reinforces the skin's protective hydrolipidic film to revive the skin's suppleness and comfort. Japanese Lilyturf extract activates the skin's natural nutrition mechanisms to compensate for the lack of lipids and improve the organization of lipids. The skin regains a lipid balance comparable to that of normal skin • COMPENSATES FOR MOISTURE DEFICIENCIES A complex of moisturizing active ingredients instantly quenches the skin. Padina pavonica extract replenishes water reserves and Japanese Lilyturf extract lastingly helps to retain water in the skin. An ultra-sensory, velvety texture, both rich and delicate, with a non-shiny finish which allows make-up to be used immediately. A fragrance of natural origin with notes of honey and orange blossom provides an immediate sensation of well-being.
RESULTS
Soothed, all of the skin's comfort is restored. Nourished and moisturized, it is revitalized. The skin recovers its vitality and radiance. Protected during the day and repaired at night, skin is more resistant. It is visibly more beautiful.
USAGE TIPS
Apply to face and neck, morning and evening.
Share on: