Enter the universe of luxury and fantasy. Mugler fragrances tell fantastical stories that transport us into an imaginary world filled with the extraordinary, innovation, paradoxes and emotions. The world is filled with strong values which are his own: passion, boldness, nothing but perfection and a unique relationship with his audience. Creativity is boosted by magnetism and sensuality, through which Thierry Mugler applies a new slant on Fine Perfumery.
A star among stars, it was more specifically the five-pointed star that Thierry Mugler chose as the symbol for his universe. As a strong universal symbol, it represents the centre, the cradle of a world in constant expansion.
For his first fragrance, Angel, Thierry Mugler wanted to put his name to a creation of high perfumery which would emanate dreamy appeal through the imaginary world it evokes, and the perfection of the shapes, colours and ingredients. He went on to design a bottle that would reflect his favourite symbol and convey a timeless and universal value: the Star.
A quest for the sublime and innovation are the two watchwords expressed by the designer, and they give rise to exceptional fragrances. Mugler sets out to create emotion and as such, strengthens this unique bond between a woman and her fragrance. Right from the launch of his first fragrance in 1992, the designer set himself a challenge: to produce a fragrance that has never been made, but which would become a benchmark. This fragrance, the product of a bold blend of patchouli and sweet flavours would be known as Angel.
A*Men, his first masculine fragrance would follow, then Innocent, whose trail combines seduction and innocence, the sparkling scent of childhood for sensual pleasure, Cologne, Alien with its absolute femininity, a radiant, mysterious and vibrant fragrance and Womanity, the first sweet-savoury fragrance.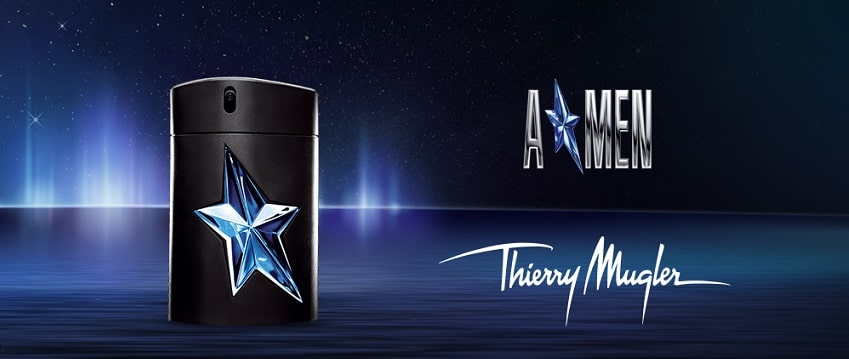 Share on: