"With this new fragrance we pay tribute to our love for Roma, yesterday, today and tomorrow." Lavinia Biagiotti Cigna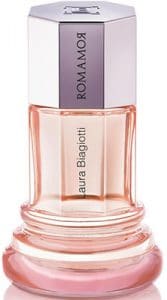 RomamoR is a specular fragrance in every way.
It is a contemporary reflection of the iconic ROMA fragrance created by Laura Biagiotti in 1988.
It has the shape of a Roman column like the one created for Roma 30 years ago, but the RomamoR bottle is much more modern.
The rose glass bottle combined with the luminous color of the fragrance immediately brings to mind those Roman sunsets whose beauty and intensity take your breath away.
The majestic fragrance of ROMA with refined notes of patchouli, orange blossom and cashmere woods is reflected in the exciting scent of AMOR with its voluptuous vibrations of blackberries, blueberries, red fruits and vanilla absolute.
The accord between head notes, heart notes and base notes is a harmonious symphony of intense and luminous feminine accents.
RomamoR Uomo expresses the invincible and majestic power of the Eternal City and evokes the quiet power of a happy moment.
The friezes of the Pantheon evoked in the historic bottle of ROMA UOMO become a modernist architectural form on the bottle of RomamoR Uomo.
The ROMA part of the fragrance is an elegant combination of spicy aromas (cardamom, black pepper, nutmeg) with the unique and typically masculine character of vetiver e velvet musk.
The AMOR side, on the other hand, is a surprising blend of romantic (lavender), sensuous (sandalwood) sweet (toasted tonka bean) and captivating (amber) notes.
It's a very complex olfactory construction that accentuates the sensuality of the men who wear it.
Share on: