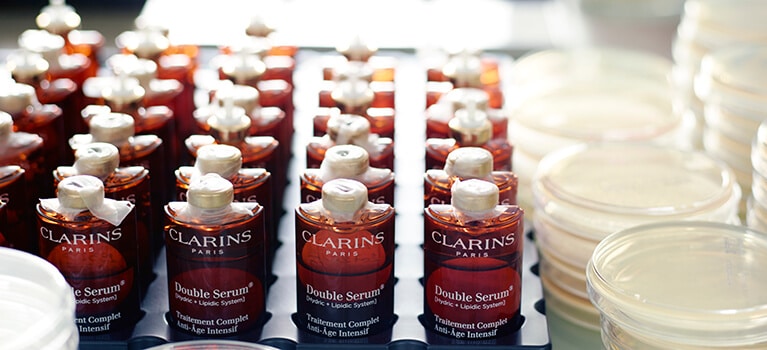 Clarins Laboratories
In 2007, Clarins Laboratories were the first on the selective distribution market to obtain GLP (Good Laboratory Practice) approval.
To ensure excellence in all its products, the Clarins group masters its production chain from A to Z. It has its own research laboratories in France, based in Pontoise.  They verify the effectiveness and stability of products through safety and tolerance testing, completed both in vitro and in vivo.
Most Clarins products are made in France at the Pontoise site. As for the fragrances, they come from a second laboratory based in Strasbourg. They are then distributed worldwide.
Managed by the quality department, manufacturing of the products is carried out according to strict health rules and always in compliance with good manufacturing practices.
Environmental laboratory management is provided by a specific department – the health and environmental safety department.
Ongoing Innovation
« We do not do anything that is not useful for cosmetics. »
With these words, Jacques Courtin-Clarins dictated the Clarins roadmap in 1976. And even today, some products stand out in the history of the Group through their incredible longevity. They are at the heart of the ongoing innovative process.
The Extra-Firming Cream, for example, has been helping women battle wrinkles and loss of facial skin firmness for more than thirty years. Since its launch in 1978, the formula has been enriched according to the new findings of the Clarins laboratories. In 1995, two active ingredients reinforced its regenerative effect through their neuroprotective action. They were followed in 2012 by four other active ingredients that this time targeted firmness links.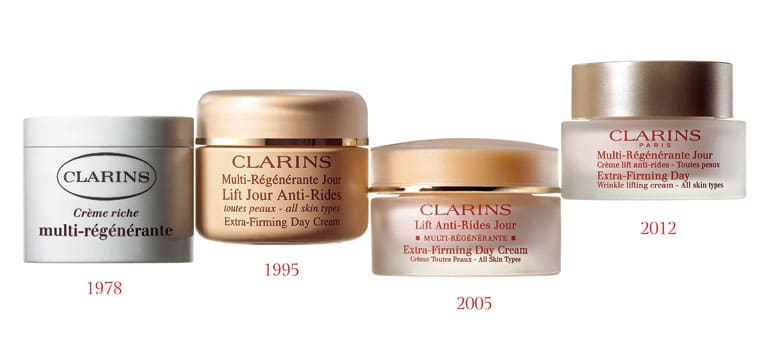 This approach, unique to the Clarins group, wants the formulas developed by the laboratories to be constantly improved. It is this innovation and discovery of new active ingredients that dictate the evolution of the skincare ranges. Ongoing innovation and novelty takes precedence for the company: a philosophy that is found in many products such as the Body Lift Cellulite Control product, a successor of the first anti-cellulite gel from 1966.